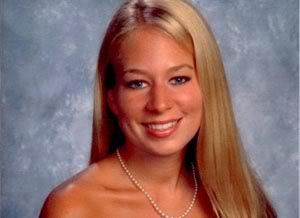 I live in Australia, I only know about Natalee from reading some crime message boards and the Oprah website.
I read the Excerpt online on Oprah by Beth Holloway "Loving Natalee: A Mother's Testament of Hope and Faith"
Do you know what really gets to me ? do you know what really upsets me the most out of all of this ?
Apart from the obvious, that as a Mother I just can not imagine how excruciatingly painful this is for Beth, that I just cant imagine never knowing what happened to your child.
I cant imagine losing a child to death, but I cant imagine how much more painful it must be not knowing if that child is dead or alive.
For me what really upsets me the most, that really defies all I know about being a good person, is that there are some people, right now, somewhere in this world , living their life,
KNOWING
That they were involved in the disappearance of Natalee Holloway.
How do they carry on day after day ?
How do they eat their breakfast , lunch and dinner every day ?
How do they party with their friends, enjoy a movie , a swim , a holiday ?
How do they lay their head down on their pillow at night and sleep ?
There are people out there right now, who were involved in Natalee's disappearance, and whether that be her death or her kidnapping into some illegal human trafficking arena...these people
WERE
involved and they
KNOW
What happened to her.
How can they not come forward ? and be a decent person ? a decent human being ?
Have people become so desensitized that they think that its just "fine" to carry on with their daily life with
their
family and friends ? while Natalee's family and friends live in despair and pain every single day since she disappeared ?
Where did those people's values and morals go ? that they were taught ? and apart from the genuinely psychotic , mentally disturbed people in this world I do believe most people are decent , good human beings that often get themselves into situations that they feel they can not get out of, situations that are clouded by alcohol, drugs , peer pressure, a moment of insanity....
I do believe that most people in this world given the same circumstances but without that "trigger" would not do what they do..
I have to believe in that, because otherwise I would just want to curl under a bed with my family and never leave...I have to believe that because otherwise it would destroy me.
So if somehow, someway those people involved in Natalee Holloways Disappearance in Aruba on Sunday The 29th of May in 2005 chance upon this blog, or even people who "know" the people involved in Natalee's disappearance chance upon this blog, I put it to you like this : Imagine if it were your Sister or Brother that this happened to ? Or even if you don't have a sister or brother , imagine it happening to your Mother or Father ? Girlfriend/Boyfriend, Wife/Husband, Niece/Nephew..anyone that you love....how would you feel ? the daily loss of that person, never knowing what happened to them...Truly ask yourself how you would feel..how much pain you would be in every single day..
Ask yourself these questions truthfully :
" Am I a decent person ? "
" Do I want to go through life with this on my conscience"
" Do I want to die knowing that I caused torment and heartache to a great deal of people"
Life isn't meant to be about hurting other people.
Anyone that has any knowledge of any kind that was to come forward would be able to stop that.
I would really like to believe that anyone who has any knowledge of any kind would be able to see past their own fears of what may happen to them, be it whether they were directly involved, had knowledge of , or even knowledge of the people involved.
Next May in 2010 it will have been 5 years since Natalee Holloway disappeared, Natalee was just 18 years old when she disappeared with her whole life ahead of her, Work, Marriage, Children, friends, family, good times all to be had...She would be 23 now......
Accidents happen, Mistakes happen, tragedies happen, but it really is a crime to know something about the disappearance of a beautiful young lady and not speak up, but rather say nothing and allow her family to live in torment.
If you know anything about the disappearance of Natalee Holloway, In Aruba May 2005, Please get your inner "decency" courage and present yourself at your nearest police station and tell them what you know.....
This
is a link to Real Photos of the Natalee Holloway Case, some of these people here hold the
TRUTH
to what happened to Natalie. I can see it in their eyes. When we are young or even middle aged, we think we are indestructible and can just blast through life, but when we are struck down by severe illness or old age there are things in our life that has gone before us that will surface to our memories...Many people make confessions at this stage because they want to be free of what they have hidden...but why wait until then , now is the time to act, so that you can live the remainder of your life in peace, knowing that you did the right thing...