Thats right NINE Years old, as if that isnt tragic enough, this child was a Quadraplegic.
Adopted by her AUNT because her mother abandonded her, a Quadraplegic because there was some sort of Suffocation in her Cot at around 3 months (some say earlier some say later)
Shylea Thomas was her name ...
And this is where she ended up - in a Garbage bag - with moth balls covering her Bed sore Ridden , 33lb pound corpse.....
Yes her Adoptive Mother , her biological Aunt, adopted her after other family members had taken turns caring for Shylea, And I'd lay a million to one that it was for the $$$$ signs that flashed by her eyes for the
monthly subsidy check from the state of Michigan, which included $2,884.73 for caring for a child with special needs.


Here is the loving grieving adoptive mother, grieving for being CAUGHT! and nothing else !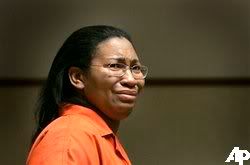 You can read more
here
and
here
and
here
I had a lot more to say, but I've been trying to post this for a couple of days now. Its been in draft mode for 5 days at least !